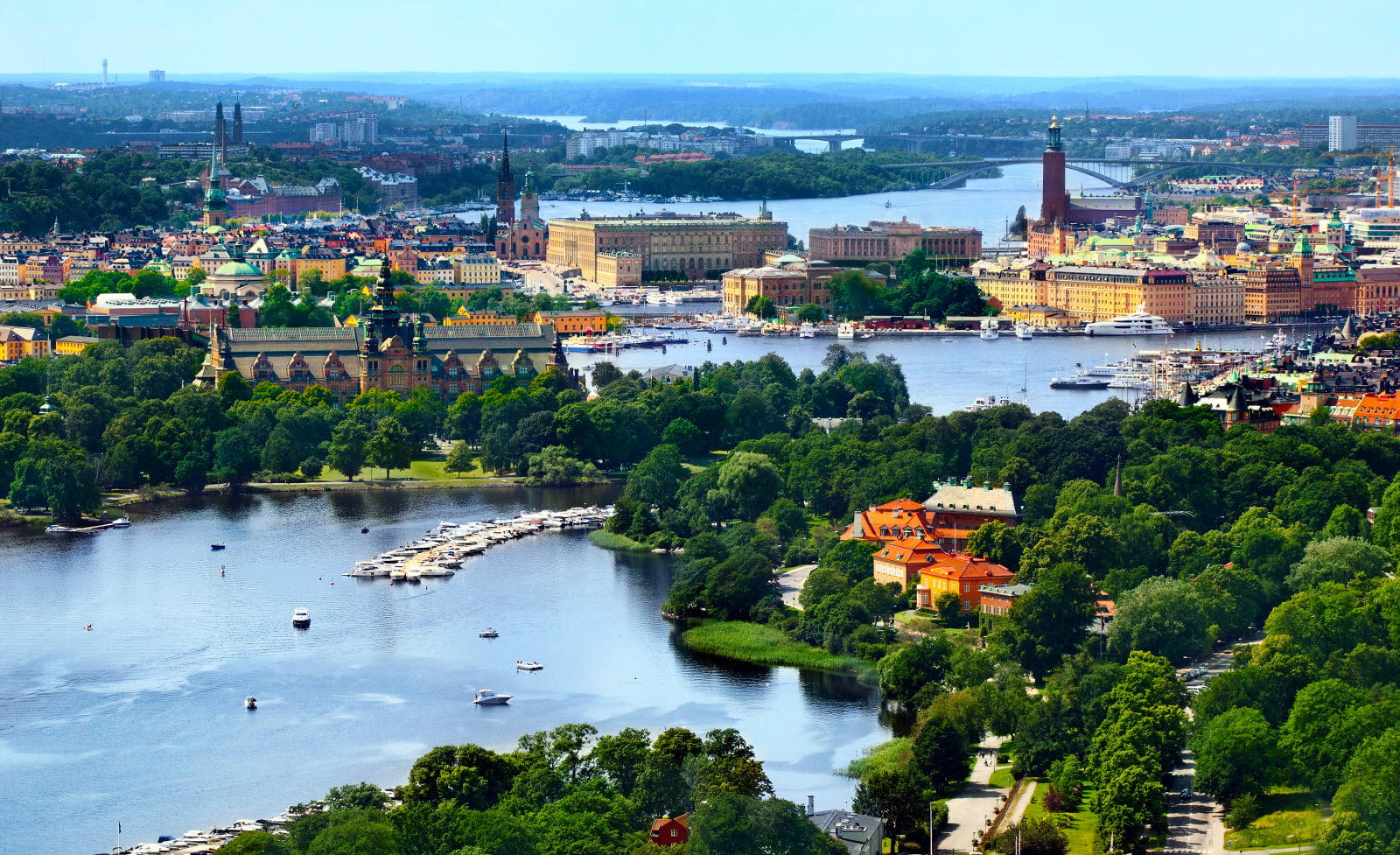 What comes to mind when you think about Sweden? If I had to answer this question the first three words that come to mind are: Ikea, Abba and Volvo! Well, joking aside, Sweden has much more to offer. The largest of the Scandinavian countries, with an area twice that of Britian, Sweden offers something for everyone. There are 9.7 million people in Sweden, of whom about 2 million are under the age of 18. Eighty- five percent of them live in the cities.
It has a spectacular landscape, incredible cities, a friendly and educated population, breathtaking countryside and a rich history and culture. In Northern Sweden you can find the rural landscape and beautiful green forests while in the south you can witness all those little red small houses scattered all over. The country's south and west coast features some of the most picturesque beaches in Europe.
Generally speaking Sweden is a very relaxed and carefree place. Their liberal and open attitude can be noticed in every aspect of their life. Sweden is a multicultural country; 15% per cent of Swedes were born in another country. The capital, Stockholm, is also the largest city, with more than 850,000 inhabitants. Other famous cities are Gothenburg and Malmo. Uppsala and Lund are well- known as the university cities.
Swedes study and work hard but they also take their vacation and relaxation very seriously. A very important tradition is the fika. It can be described as a coffee break that normally consists of a coffee or tea, cookies or sweet buns. However, it can also include soft drinks, fruit as well as sandwiches. It is a very important part of the national culture and most Swedes will enjoy at least one fika a day as an opportunity to bond.
Sweden is a major exporter when it comes to culture, I can think of a few popular names right now from Abba, Zara Larsson to Avici. Sweden has long been a country that breeds innovation; it is considered to be one of the most innovative countries in the world. Swedes are the first ones to adopt modern technology and given the country's equal society it allows for more new ideas. It is interesting to note that the Swedish government invests a higher percentage of GDP in research and development than most other nations. These are some of the most popular inventions that have changed the world are the pacemaker, ultrasound, adjustable wrench and Skype in 2003.
If you enjoy a drink every now and then you might want to stock some while in Sweden. I know it will come as a surprise but gas stations and local stores are forbidden to sell win and other alcohol. As a way to control the alcohol consumption in the country the government set up Systembolaget stores in 1955. This is a government owned chain of liquor stores in Sweden. It is the only retail store allowed to sell alcoholic beverages that contain more than 3.5% alcohol by volume.
If after reading this article you got very interested to learn more about Sweden, the following is a list of the most visited area in Sweden:
Stockholm: It is not only the capital but in my opinion one of the most beautiful cities in Europe. Sweden is built in a place where the lake meets sea, on fourteen islands, with more than ten centuries of history and culture. This city is known for its progressiveness, modernity and use of advanced technology. Stockholm is very easy and efficient to move around, where the air is fresh and the water is clean.
Stockholm archipelago: One of my personal favourite spots in Sweden is the wonderful Stockholm archipelago. The archipelago has more than 30,000 islands, islets and skerries of which just around one thousands are inhabited. The archipelago is accessible from central Stockholm all year round thanks to the majestic white archipelago boats.
Gothenburg: Gothenburg is the capital of West Sweden and it is simply breathtaking. Here you can relax in the never-ending green open spaces, traditional cobbled streets and visit the Gothenburg archipelago. The archipelago of Gothenburg stretches along the coast and the best thing about it is that you don't have to travel far from the city to find lovely cities and charming beaches. It is important to mention that no cars are allowed in the Southern part of the archipelago which makes it ideal for those looking for long walks and bike rides.
Malmo: All roods in the province of southern Sweden lead to Malmo. Malmo is a small, friendly city which features a number of cultural attractions. It is a multicultural city, full of energy and many outstanding restaurants and bistros and great cafes. And for all the shopaholics out there I can guarantee that Malmo is a good city to shop.