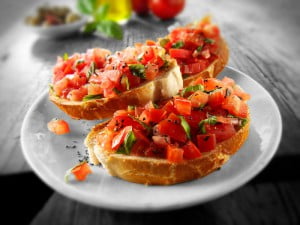 I like to think about Italy as the food capital of the world. Some might not agree (I think Italian are with me on this) but this does not change the fact that millions of people visit Italy year after year to satisfy their food needs. I have to admit that Italian food is something I am very passionate about so you might find this article a bit biased, I about this in advance.
There are a number of reasons why Italian food is the best in my opinion. The first distinctive feature that best describes Italian food is quality: quality of the ingredients, quality of the production process and the quality of the food display. The food prepared is made with fresh and natural ingredients. This enhances both the taste and flavor of the food. Ingredients such as oil, mozzarella, vegetables and any other product are produced according to rigorous safety rules. One cannot speak about the quality of Italian food and not mention the handmade fresh egg pasta which comes in many shapes and sizes. Fresh pasta has a different texture and flavor than dried pasta. Italian people rarely buy it in shops but make it themselves; the same can be said about the sauces.
Perhaps another reason that makes Italian food so inviting is its simplicity. Italian cuisine is great with just three or four ingredients. It is very east to notice that Italian dishes are not complicated and instead of focusing on trying to come up with complex combinations and difficult processes they choose to leave the recipes as simple as possible. Let's take bruschetta as an example, a classic starter in Italy; it is made with just tomatoes, oil, bread and garlic. Italians are notorious for their talent to improvise mouthwatering dishes from just a few ingredients.
Italian food is very regional, Italians choose fresh ingredients and what is available locally. This is in my opinion another reason why I believe Italian food is the best. Some dishes can be found in some towns only and cannot be found anywhere else. Each and every region in Italy has its own specialties which will only be found there. The region of Lazio (capital Rome), is famous for fresh and dried pastas, and tender porchetta. Lombardy (capital Milan) is famous for risotto and polenta while Sicily the largest Island is famous for olives, pork, veal and citrus fruit.
Even though there is the perception that Italian food is very expensive the good news is that you don't have to spend a lot to eat superb food in Italy. I ate the most amazing pasta dishes in Italy with just a few Euros. I strongly suggest that as much as possible avoid eating in very central restaurants or when the menu is translated in different languages as these restaurants normally turn out to be tourist traps.
I hope you didn't get hungry as much as I did while writing it, if you did Buon Appetito!