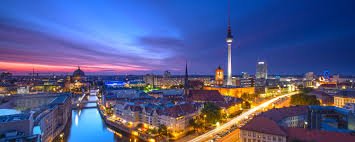 Berlin is a charming place to visit, with a rich varied history. This fascinating city has been one of Europe's most influential economic, cultural and political centers since its origins as a trading post in the 13th century.
Berlin is famous for its summers, not because it is particularly warm, but there is a never-ending list of things to do. Summer can be very wet so I suggest that you always carry an umbrella and pack a light jacket. However, the rain does not stop people from enjoying the city. I have a couple of friends working in Berlin and they always told me to visit in May as it is considered the best time to visit. And that is what I did! I was very lucky as the weather was quite good and I managed to do a lot of things. Another reason why they suggested I visit in May is because there are plenty of festivals and events. Despite the fact that winters in Berlin are super cold the events don't disappear.
Berlin is positioned almost directly in the centre of Europe. It is the richest country in the continent and also the most populous after Russia. In December 2015, Berlin had a population of 3,610,156 registered inhabitants in an area of 891.82 square kilometers. Modern Germany has only existed since 1990, after the Berlin Wall fell and East and West were reunified. Today Germany is the third biggest economy in the world and a leading member of the European Union. It is also one of the biggest exporters of goods in the world.
Every year millions of tourists jet off to Germany to visit the cosmopolitan cities, breathtaking castles, beautiful lakes and forests as well as the other historical and cultural sites. Berlin is nine times the size of Paris and is full of innovative art, rich history and a glamorous lifestyle. Berlin has more than 1,700 bridges making boat trips a great way of exploring the city. The Berliner Fernsehturm, (Berlin TV tower) located in the city centre, is 368 meters high making it one of the largest constructions in Europe. The panoramic view at 207 meters offers fantastic 360- degree views of the city.
One thing I learnt about Berlin is that there are plenty of green spaces. About 44% of Berlin is made up of parks, recreational areas, woods and rivers. As soon as the sun comes out each spring and summer, the city's parks get crowded with sunbathing people and the most beautiful flowers bloom. The main park in Berlin is Tiergarten which is home to many summer festivals and the animals of Berlin Zoological Garden. On Sunday, my friends suggested we visit Mauer Park and that is what we did. I have to admit that I was completely blown away. Here one can check the flea market and in summer the live outdoor karaoke.
Berlin is known for its food, from huge schnitzels and pretzels to giant glasses of beer. Visitors can choose between cheap street food to fine dining restaurants, and from international cuisine to traditional German. Cooking here has been influenced by the immigrants from the neighboring regions. The following is a list of some of the food I tried while in Berlin: Leberwurst, Kartoffelsuppe, Eisbein and of course the Schnitzel.
Although Berlin offers plenty to see and do, if you want to get away from the city for the day there are several options for nearby trips as well. Potsdam found 20 miles from Berlin is the perfect place for you to spend the day. Potsdam boasts several palaces, gardens, plenty of restaurants and shops. If you have some spare time in Berlin, Potsdam is a must! Ohh, I am completely and utterly in love with this place!
There is also Hamburg and although it is further than the rest the speedy rail system can take you there in around an hour and a half. Believe me it is worth it! We took a boat ride down River Elbe, and walked along the historical bridges and canals. It was a very pleasant experience!
Berlin is simply a fabulous city, one that I will never get tired of visiting. Berlin inspires me, makes me appreciate life more and most importantly it makes me feel good about myself. This multicultural metropolis should be at the very top of your bucket list.